3. Blackletter and Variations: March 27, April 3, 10, 17, 2018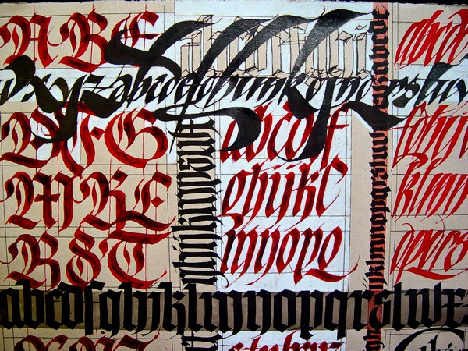 $140.00
We will begin by grounding ourselves in a strong, basic form of gothic: Textura. Then we will, variable by variable, morph it through a series of permutations; creating variations, modernizing it and doing projects that are anything but traditional. Every session we will work with a variety of papers, writing fluids and nibs, techniques, as well as layouts and designs. Beginners through advanced welcome.
Instructor: Reggie Ezell
773-202-8321
contactreggie@comcast.net
www.reggieezell.com
Location: Irish American Heritage Center
Times: 11 am to 2 pm
Dates: Mar 27, Apr 3, 10, 17
Fee: $140 per course, includes $20 materials fee
Teacher provides:
-most papers
-most writing fluids choice
-some nibs
Students provide:
-calligraphy grid pad
-pen handle of personal choice
-nibs of own choosing
IF PAYING BY CHECK, PLEASE FOLLOW THESE INSTRUCTIONS:
If you wish to pay by check, please download and complete our Class Registration Form. Please write your check, payment in full, payable to the Chicago Calligraphy Collective and mail it to: Patricia Kutz, CCC Treasurer, 1280 Harleyford Road, Woodridge, IL 60517-7532. For questions, please email Julie Wildman, Class Coordinator.
Chicago Calligraphy Collective
4626 North Knox Avenue | Chicago, IL 60630
Contact Us:
secretary@chicagocalligraphy.org
LINK for Classes at the Irish American Heritage Center:
https://www.chicagocalligraphy.org/classes-at-iahc-1/
Class Registration Policies and Procedures
https://www.chicagocalligraphy.org/s/WS_Policy_Procedures2.pdf